Submitted by

damages

on Thu, 11/07/2013 - 10:11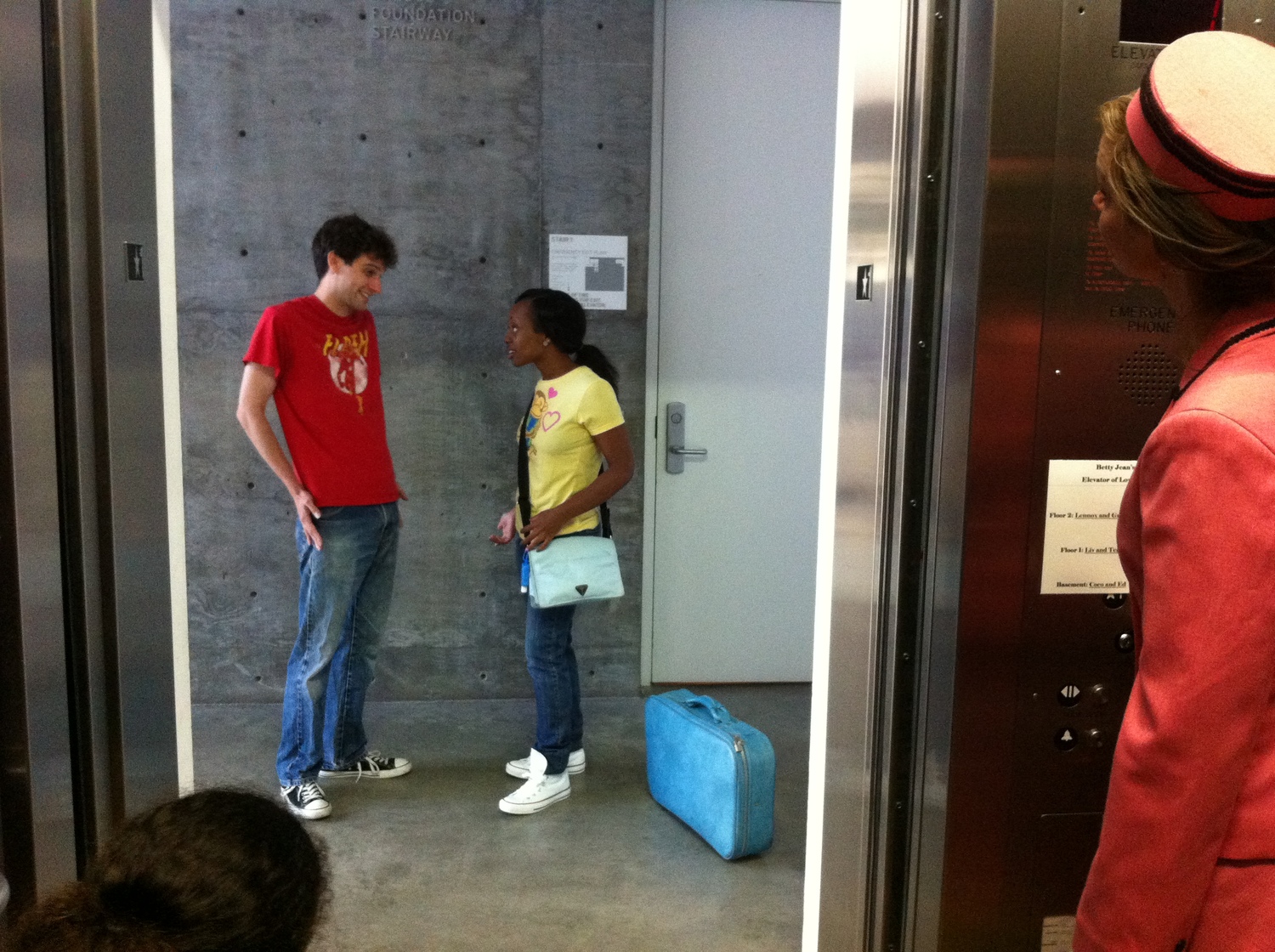 I must confess: I have always enjoyed eavesdropping.
I savor those snippets of conversation I overhear in public places – while walking down a sidewalk, sitting in a restaurant, or standing in an elevator.  This guilty pleasure, the quiet delight of listening in on strangers' conversations, is showcased to witty advantage in Jennifer Barclay's elevator play, Counterweight, which premiered at La Jolla Playhouse's 2013 Without Walls Festival.
"Voyeurism is something that really intrigues me," Barclay says. "It's something I've looked at in several different plays that I've written. And I've been fascinated by elevators for a long time. I got trapped in an elevator when I was about 16, so it's always been stuck in the back of my mind as a compelling and dramatic location. The doors slide open, you catch a little slice through a window of what's going on in these people's lives, and then the doors close and take that away from you."
Counterweight, a one-act, was written for the elevator in the La Jolla Playhouse's Potiker Theatre. The audience travels up and down as scenes unfold on three different floors. But the elevator in Counterweight does not take its audience to literal floors in a literal building. Instead, we take a ride on the "Elevator of Love." The play follows three different couples, each at a different stage in their relationships. In the basement we find Ed and Coco, teenagers fumbling toward a first connection. On the first floor are Liv and Teresa, an established couple struggling to start a family. And on the top floor, Lennox and Gracie face the challenges of advancing age. Our guide on this journey is elevator operator Betty Jean, a perky, 1950s stewardess-of-the-cables with a secret love story of her own.
To create Counterweight, Barclay partnered with Moxie Theatre and director Delicia Turner Sonnenberg. Barclay and Sonnenberg collaborated throughout the development process, from brainstorming the initial ideas to shaping the finished production. Together they worked through two separate drafts before gathering actors for a two-day workshop of the play at the La Jolla Playhouse, an opportunity to rehearse and rework the piece in the elevator itself.
Says Barclay: "That workshop was invaluable in seeing how it all came together logistically: how it felt to go back and forth between those three floors, what rhythm worked best, and how much material we really needed." The workshop was not without its challenges, however. Early on, it seemed a persistent elevator buzzer would constrain the scenes to 20 seconds or less, requiring Barclay to completely rewrite and re-imagine the script – until performer Lisel Gorell-Getz, who played Betty Jean, figured out how to trick the sensors. In a site-specific piece like Counterweight, in which dramatic structure relies on the machinery of the space as much as the needs of the story, Gorell-Getz assumed a new role: actor/technician/dramaturg.
On each floor of the building, architectural details – windows, doors, overhead pipes – inspired Barclay and influenced the type of scene that would play out there. But neither the script nor Sonnenberg's production was inexorably tied to one specific elevator;Counterweight can travel. The team also produced it in the elevator at the Museum of Contemporary Art in downtown San Diego, with minor changes.
For an audience member, Counterweight pairs theatrical storytelling with an experience that is both kinetic and social. I boarded Betty Jean's elevator with just two other people, and the three of us quickly became important players in each other's Counterweightexperience. We introduced ourselves; we made small talk; we negotiated each other's personal space. We also shared an amused glance as we realized that we were trapped in the elevator with a chatty fourth party – Betty Jean herself – who would insist on talking to us.
The sense of being trapped, the feeling of motion, the jolt as the elevator car starts and stops – these are important components of the physical experience of Counterweight. And Betty Jean's first lines infuse a certain sense of claustrophobia and danger into the space: "Please keep your hands inside the car at all times, and buckle your seat belts! (an aside) Just kidding, we have no seat belts. Although maybe we should. Have you heard those stories? About cables snapping and... (she smiles) Never mind, how would a seat belt help?"
The physical motion of the elevator also drives the dramaturgy of the play. The elevator doors become a de-facto proscenium, framing our view. But an elevator is not a fixed space, so our proscenium is mobile and always changing. Betty Jean does not allow us to watch any scene continuously. Scenes are cut off at the beginning and end – we even hear a scene play out as we pass by, without the doors opening – and the audience must assemble the story from snippets.
Barclay sees the Counterweight model – in which audience members travel and actors are static – as only one way of using an elevator to shape a dramatic story. "I think all the options are exciting," she says. "I'd like to write several more elevator plays."