Submitted by

damages

on Sat, 11/20/2010 - 15:41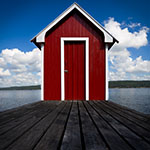 Stories from a Small House is my ongoing blog series on theatre performed for tiny audiences.
Nearly ten years ago, I huddled outside a sliding glass door on an uncharacteristically rainy San Diego night, peering into a luxurious living room where director Les Waters performed a kind of "pocket" adaptation of Maeterlink's The Intruder. A man clutching a tape recorder listened to the terrified voice of his young son, as unseen Death crept closer and closer. When the scene concluded, the small crowd of ten or fifteen people made their way inside the house, where room after room held installations and mini-dramas inspired by or drawn from Maeterlink's work. After all the intervening years, I most strongly remember the massive dining room table covered in crushed oranges, a meal for The Blind.
Waters' micro-scale productions were powerful and memorable for me, shaping my experience of what theatre can and should do. I can't forget them. More than that, I always want to hear about other people's back-alley, back-yard theatrical experiences -- the ones where ten or twenty people came together and made theatre on a small scale with enormous impact. For some time, I've wanted to create a space to share stories about productions like these, truly extraordinary work created for tiny audiences (say, 35 or fewer). These "small house" productions might be professional site-specific installations; they might be full productions staged in art galleries or other non-traditional theatre spaces; they might be the result of an inspired night in a student black-box series; they might be fascinating works created and performed in a living room after dinner.
The goal of "Stories from a Small House" is to create a record of successful small house productions, to provide a space for conversation about how they function, and to disseminate information about them to other theatre artists and students of theatre.